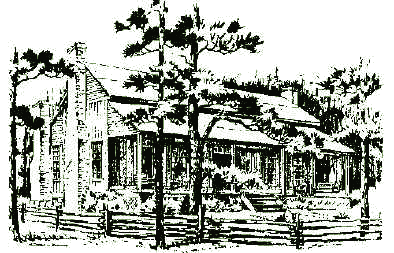 The Tol Barret House Museum
Llano Grande Plantation Bed & Breakfast Accommodations
Llano Grande Plantation B&B consists of two separate, historic, restored homes, each with unique and fascinating features, and each in its own lovely, private setting. Click on the title to read the descriptions, get the Rates, and soon, view pictures, and even take a "Virtual Tour."

The Tol Barrett House is the home of L.T. Barret, the man who drilled the first Oil Well in Texas; you will be staying in accommodations that are on the National Register of Historic Places.

A private, romantic getaway cabin, which is a favorite for honeymoons, anniversaries and family reunions.

Deep piney woods setting, perfect for walking in the woods, fishing, bird-watching in our two stands, enjoying our many varieties of wildflowers, reading on the wide veranda-style porch.


The most elegant of our historic accommodations

Furnished with antiques of the period, including crystal chandelier and oriental rugs

Lovely piney woods setting with dogwood and antique roses


The John Marion Sparks House



The Sparks House is no longer officially on the Bed & Breakast circuit at Llano Grande Plantation. However, Guests are asked to come to the Sparks House first. They will then be taken to their reserved accommodations at the Tol Barret House or Rosewild: The Simpson Plantation House. Click on the Title to see the picture for identification.




Reservations either of our accommodations includes all of the following:

Access to 600 beautiful acres of piney woods with walking trails, many varieties of wildflowers and two stands for bird-watching

Free Guided Tour cheap rolex replica of the Tol Barret House, on the National Register of Historic Places. This Tour is provided, on request, for all our guests, regardless of where they are staying

Wood-burning fireplaces with fire laid.

Central heat and central air conditioning

DVD Player with some classic DVD movies and a selection of classic books





TO MAKE A RESERVATION: please see below for information on our Webervations online availability check and ability to request a reservation online. You can always contact us at 936-569-1249.

Our WEBERVATIONS system gives our web site visitors the opportunity to check the availability of a specific house on specific dates and make a request for a reservation right online. PLEASE TAKE A FEW MOMENTS TO MAKE A "WEBERVATION". We are a small, historic and very personal Bed & Breakfast -- we are not an "inn". Having the Webervation information available is a huge help to us and we would very much appreciate it. In addition, you can ALWAYS call and talk to a real human being at 936-569-1249. Even when you make a reservation request online, we will always call you to confirm it, so you will have personal contact with us either way.


This web site is created and maintained for Llano Grande Plantation B&B by Pamela Ann Phillips of WebPsalms.

Copyright 1996-2013. All Rights Reserved